Vertical Buy Best 808 Diode Laser Treatment Hair Removal Machine For Sale
Product Detail
Product Tags
| | |
| --- | --- |
| Wavelength | 808nm/755nm+808nm+1064nm |
| Laser Output | 500W / 600W / 800W / 1000W /1200W / 1600W / 2400W |
| Frequency | 1-10Hz |
| Spot Size | 15*25mm / 15*35mm |
| Pulse Duration | 1-400ms |
| Energy | 1-240J |
| Cooling System | Japan TEC cooling system |
| Sapphire contact cooling | -5-0℃ |
| Operate Interface | 15.6 inch color touch android screen |
| Gross weight | 90kg |
| Size | 65*65*125cm |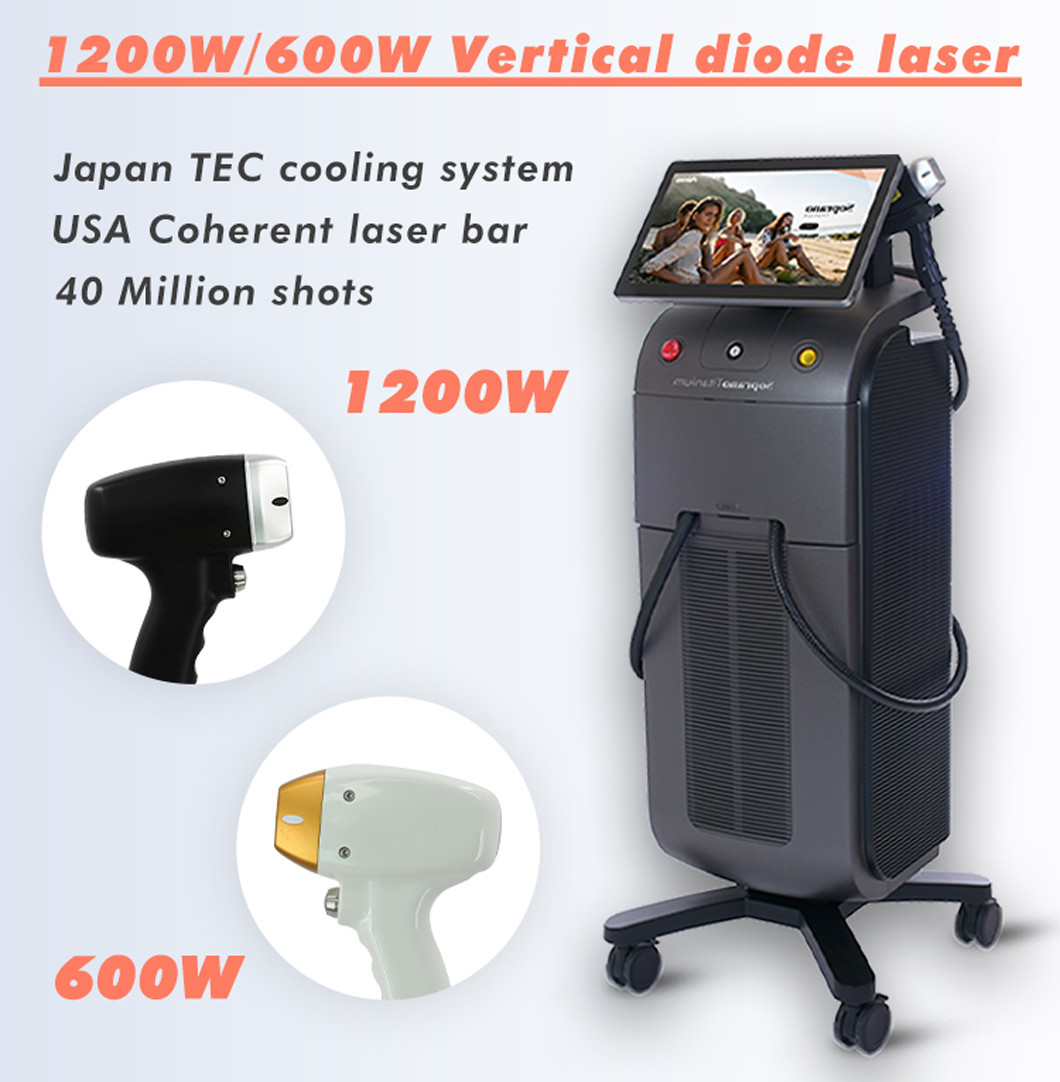 1. 15.6inch Android color touch screen can connect wifi , bluetooth to use , More sensitive , intelligentized and faster in reaction
2. Male & female , Skin tone I-VI , 3 modes (HR , FHR , SR) to choosed , Easy operation
3. Various power laser modules for option (500W 600W 800W 1000W 1200W 2400W or 2400W handle with Vacuum)
4. 808nm or 808nm 755nm 1064nm combined 3 in 1 techonology to choosed
5. USA Coherent laser bar ensure emitting light 40 Million shots , you can use it for very longer time .
6. Super spot size of handpiece (15*25mm , 15*35mm , 25*35mm to choosed) , fast treatment and save more times for patients .
7. Japan TEC cooling plates make handle frozen only in 45s , best cooling system , it can protect treatment skin , more comfortable and safe
8. Japan TEC cooling system can control water temperature by itself to keep machine running continuously within 24 hours even in Summer no stop .
9. TaiWan Imported Power supply ensure electric current stable output
10. Italy imported water pump with better cooling system .
11. Clinically proven 3D parameter stores , help operator make treatment plan
12. We sell single handle spare parts and laser module parts
13. we can also produce the handle as your demands , we can accept OEM and ODM service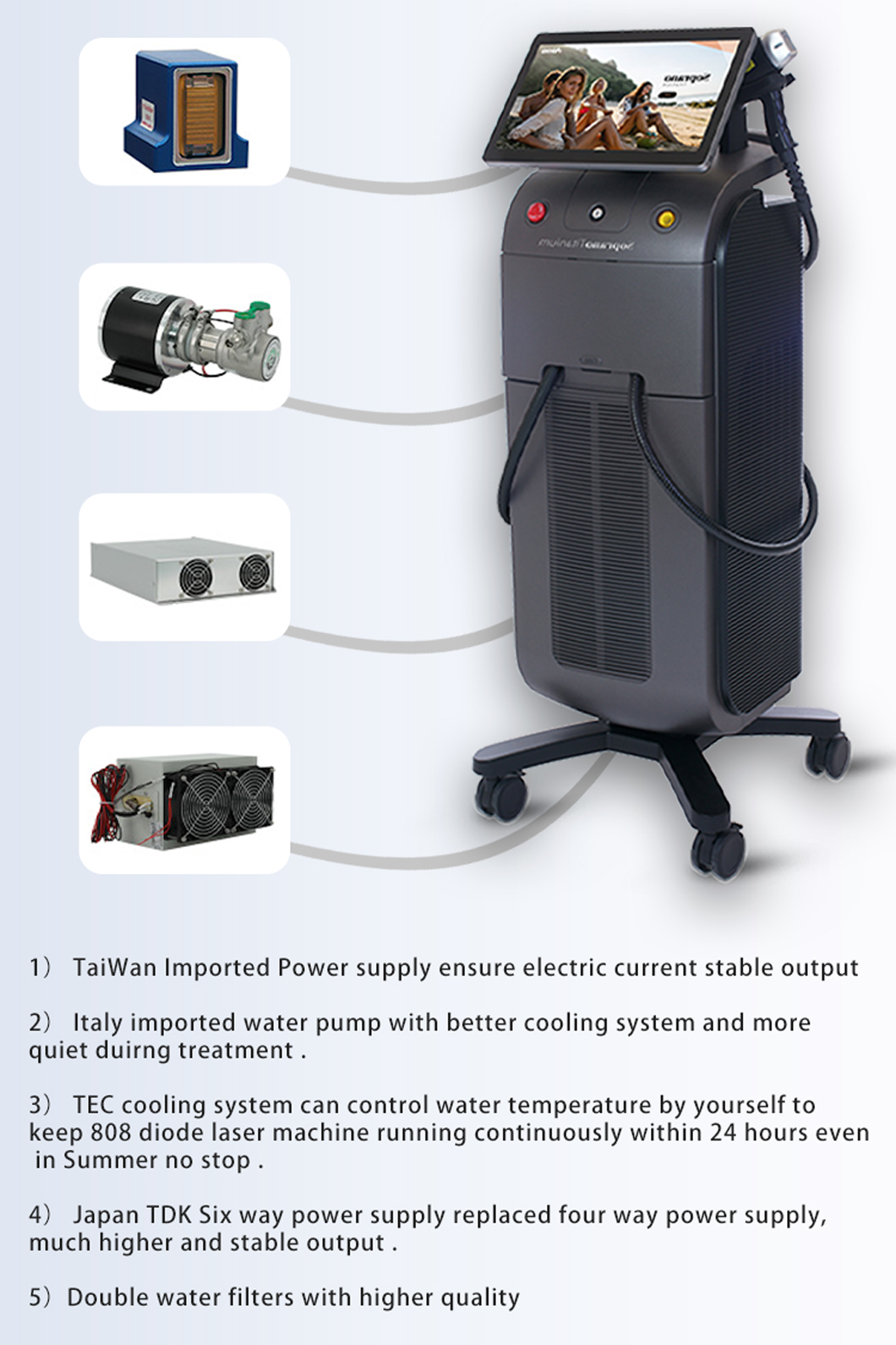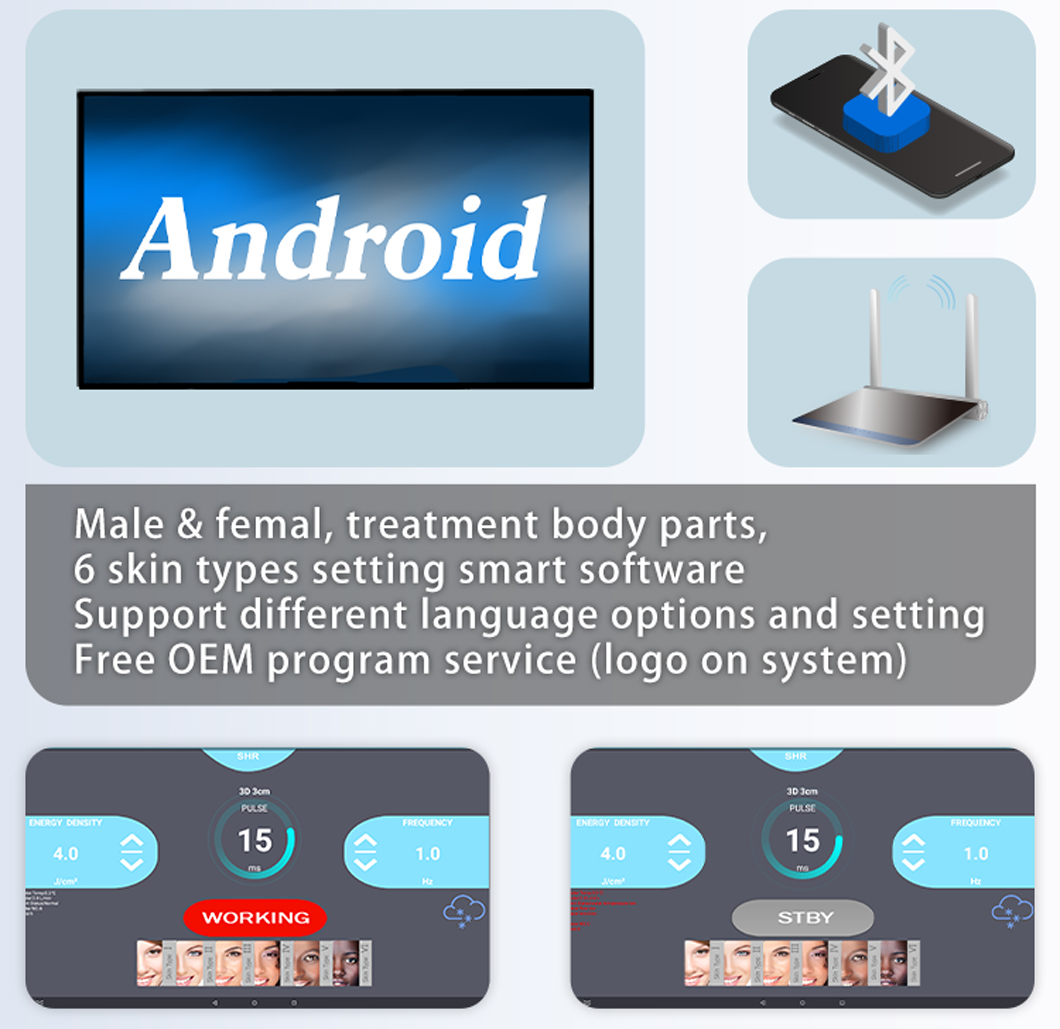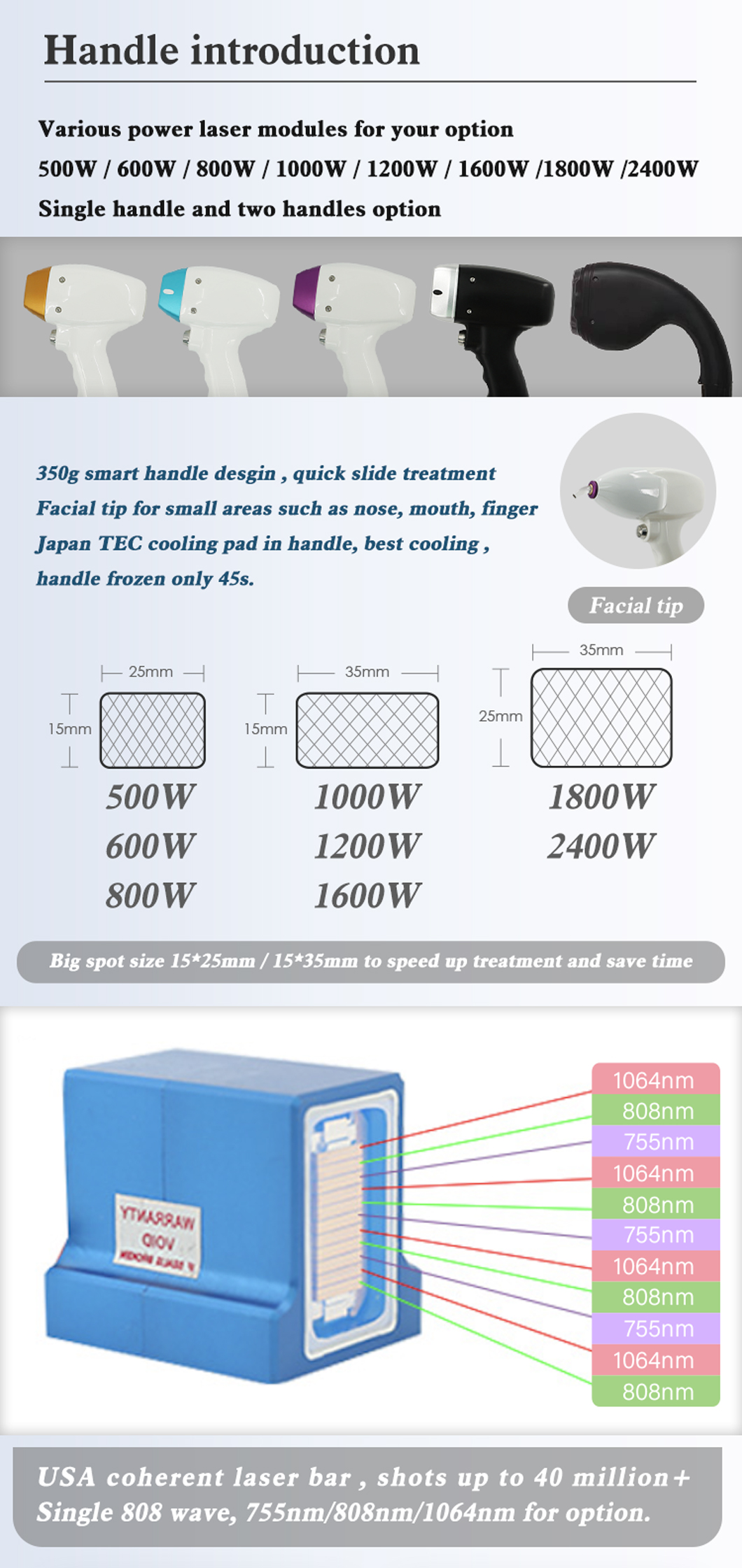 1.A breakthrough in laser hair removal : research proof 808nm wavelength can be absorbed by melanin in the hair follicle better . it can get best treatment effect for hair removal .
2.Best cooling system : Advanced Japan TEC cooling system can ensure the machine continuous work 24 hours no stop . In salon and clinic you can make treatment for customers without stop . it can bring more benefits for salon and clinic .
3.Painless and comfortable : real cold sapphire crystal can get -5 degree at lowest . it can minimizes epidermal risks while maintaining heat within the dermis where hair follicles are treated. Make sure that treatment more safe and comfortable.
4.Perfect treatment effect : 4-6 times treatment can get permanent hair removal effect .
Super big spot size of handpiece can speed up treatment , save times for customers .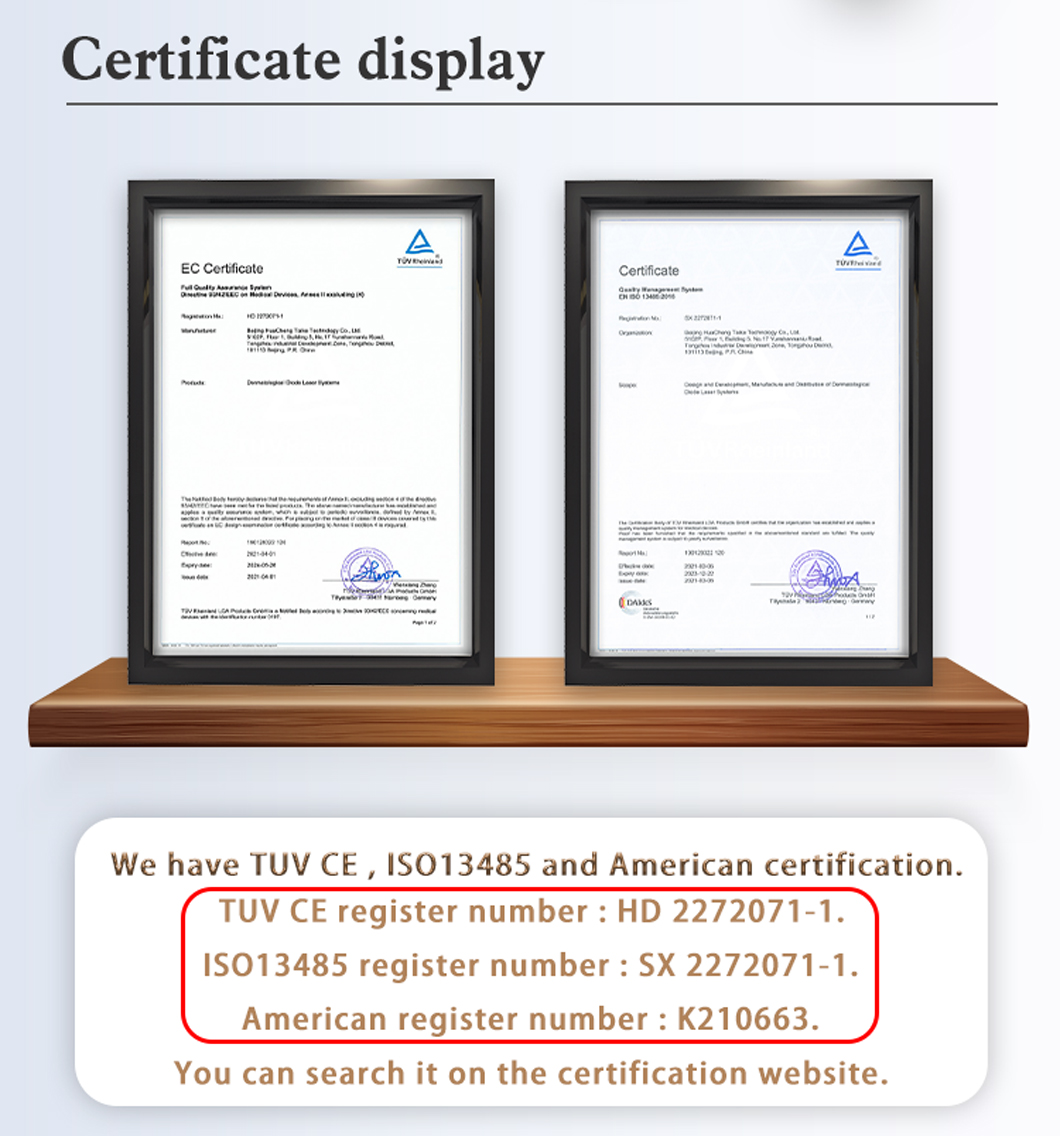 808nm diode laser machine is particularly effective to hair follicle melanocytes without injury surrounding tissue.The laser light can be absorbed by hair shaft and hair follicles in the melanin, and converted into heat, thus increasing the hair follicle temperature. When the temperature raises high enough to irreversibly damage the hair follicle structure, which disappear after a period of natural physiological processes of hair follicles and thus achieve the purpose of permanent hair removal.
Permanent hair removal
Skin rejuvenation
Skin care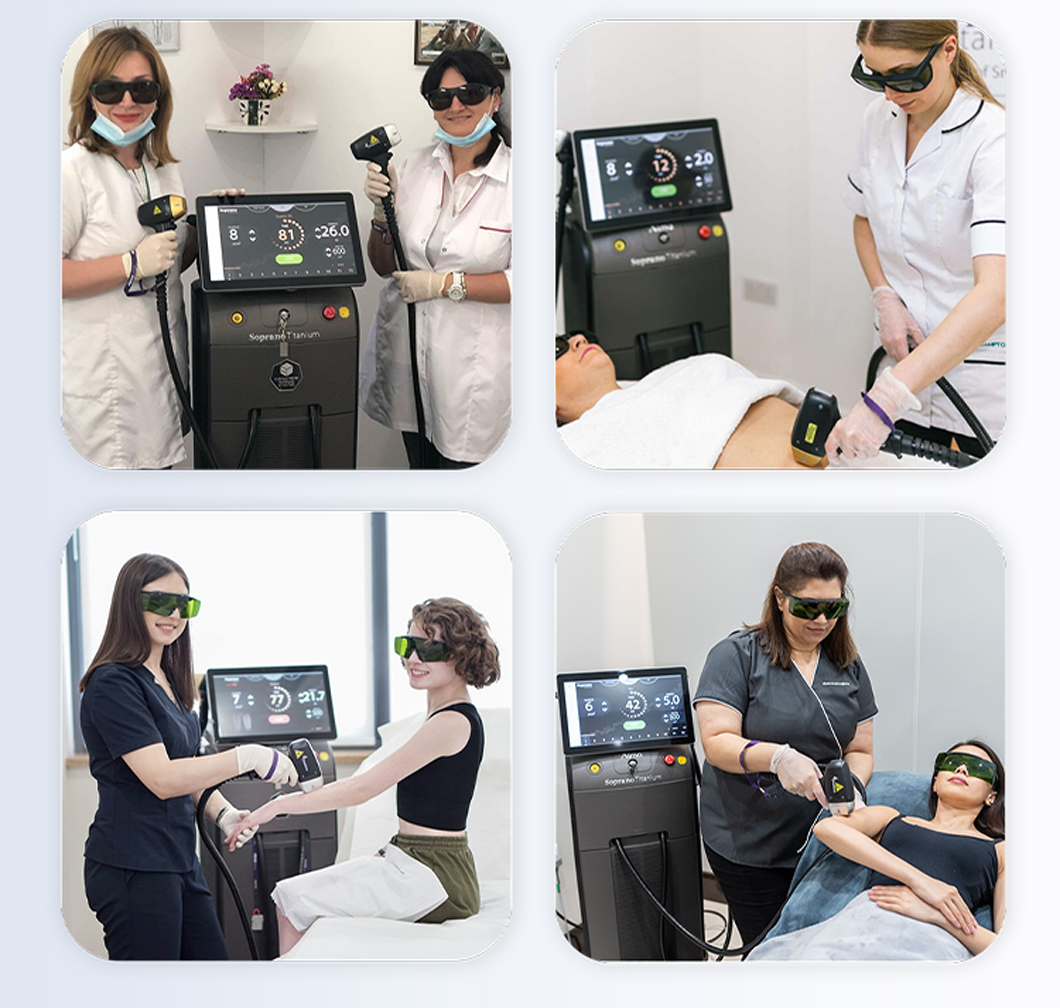 Face and ears
Back of the Neck and shoulders
Neck and arms
Underarms and genital area
Legs and hips
Belly and waist
Shoulders and bikini line
---
---