1060nm Diode Laser Body Slimming Machine Manufacturer
Product Detail
Product Tags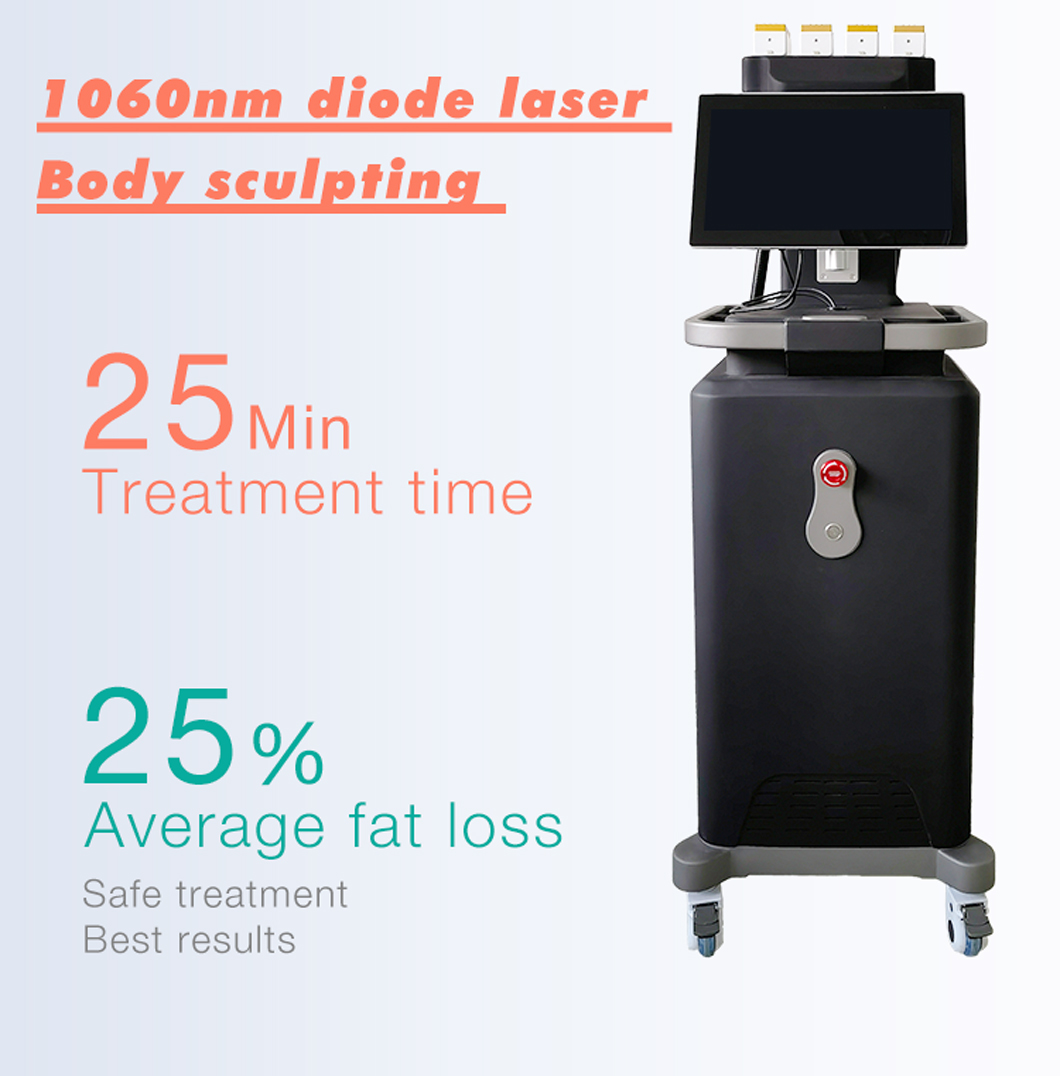 Safely and effectively eliminate unwanted fat cells in just 25 minutes per treatment with our revolutionary laser technology. Now you can provide patients with non-invasive body contouring that permanently reduces stubborn fat without surgery or downtime.
The 1060nm wavelength's specific affinity for adipose tissue, coupled with minimal absorption in the dermis, allows laser to efficiently treat areas of troublesome fat in just 25 minutes per treatment. Over time, the body naturally eliminates the disrupted fat cells with results seen as quickly as 6 weeks and optimal results usually seen in as few as 12 weeks.
The treated fat cells are permanently destroyed and will not regenerate. Laser shape is intended for patients who maintain a healthy lifestyle, yet experience stubborn fat in treatable areas, such as the flanks, abdomen, inner and outer thighs, back, and under the chin. As long as significant weight gain is not experienced, your patients will maintain their Laser shape results.
Many patients start to see results as early as six weeks following treatment, as the body begins to evacuate the destroyed fat cells through the lymphatic system. Optimal results are usually seen 12 weeks after a patient's final treatment.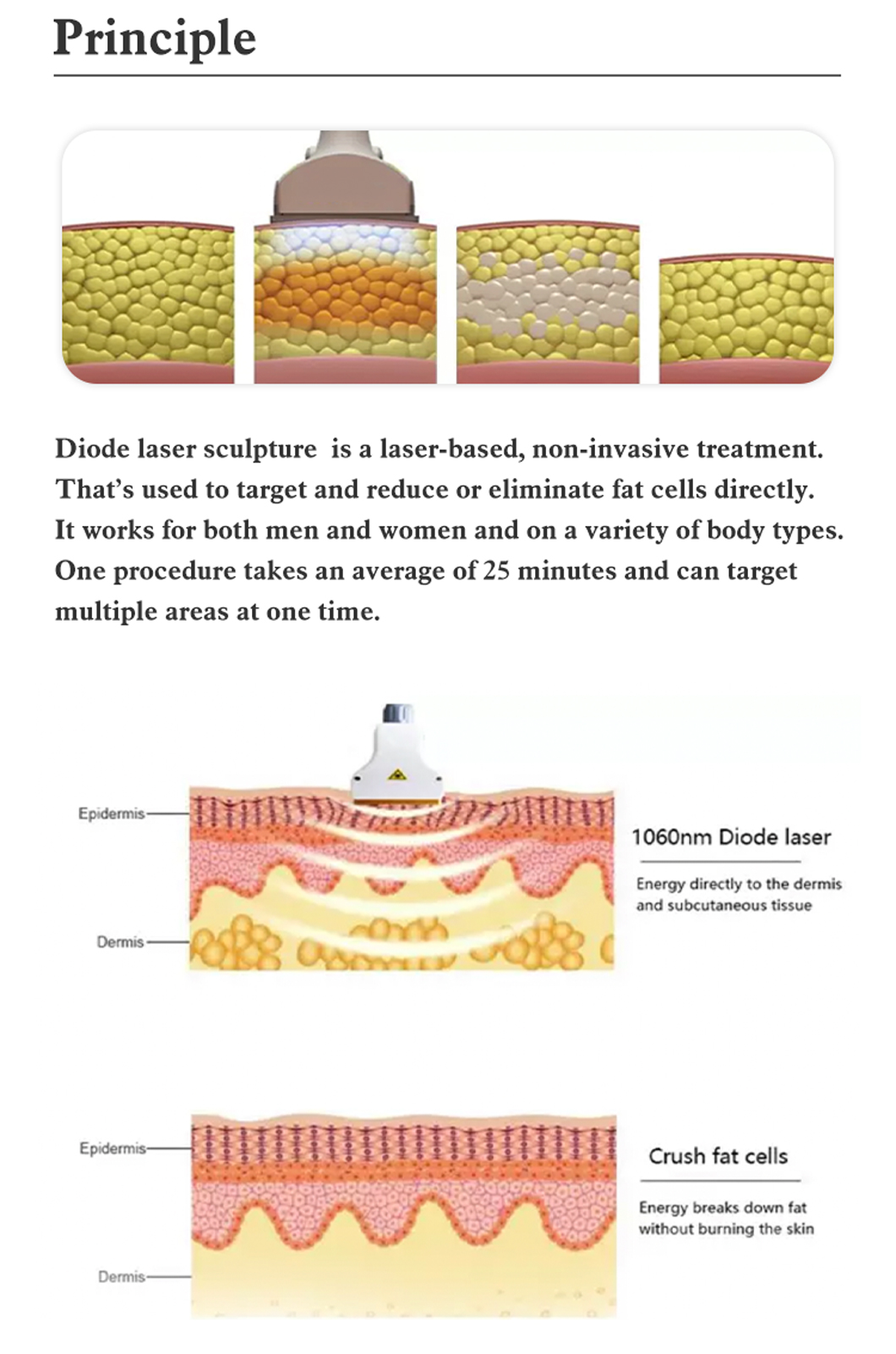 1) body slimming
2) fat burning & reduction
3) cellulite reduction
4) body shaping & building
•1060nm laser device
•Non-invasive cryogenic laser in vitro lipid dissolution
•The process is safe, comfortable and well tolerated
•Use on both sides of the waist, abdomen, upper arms, thighs, and other fat storage areas
•Can be used on all skin types
•One session reduced fat by 24%
•Treatment in one area takes only about 25 minutes
•4 small areas can be processed simultaneously
•It has the effect of firming skin
•It does not damage dermal tissue
•Clinically verified patient satisfaction rate exceeds 90%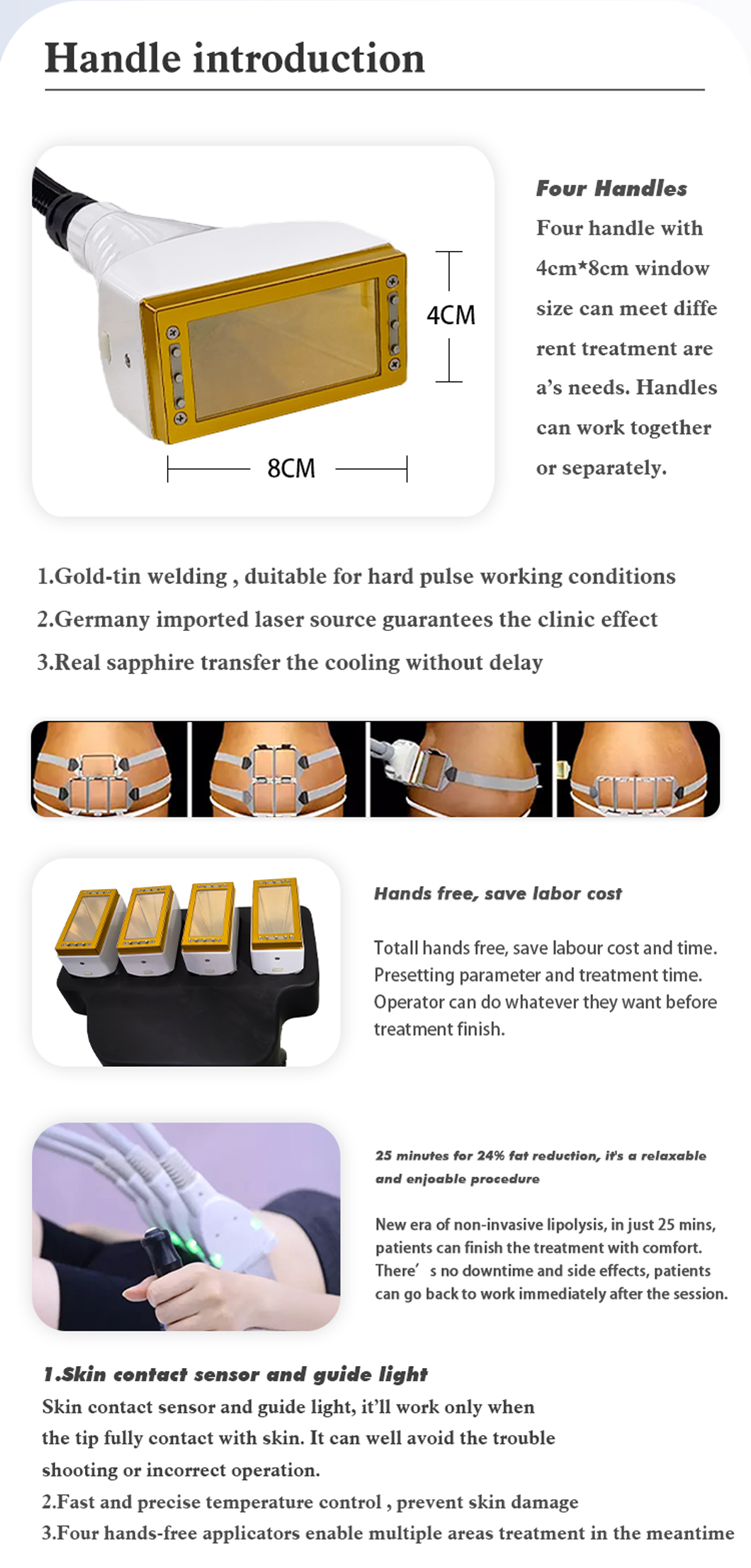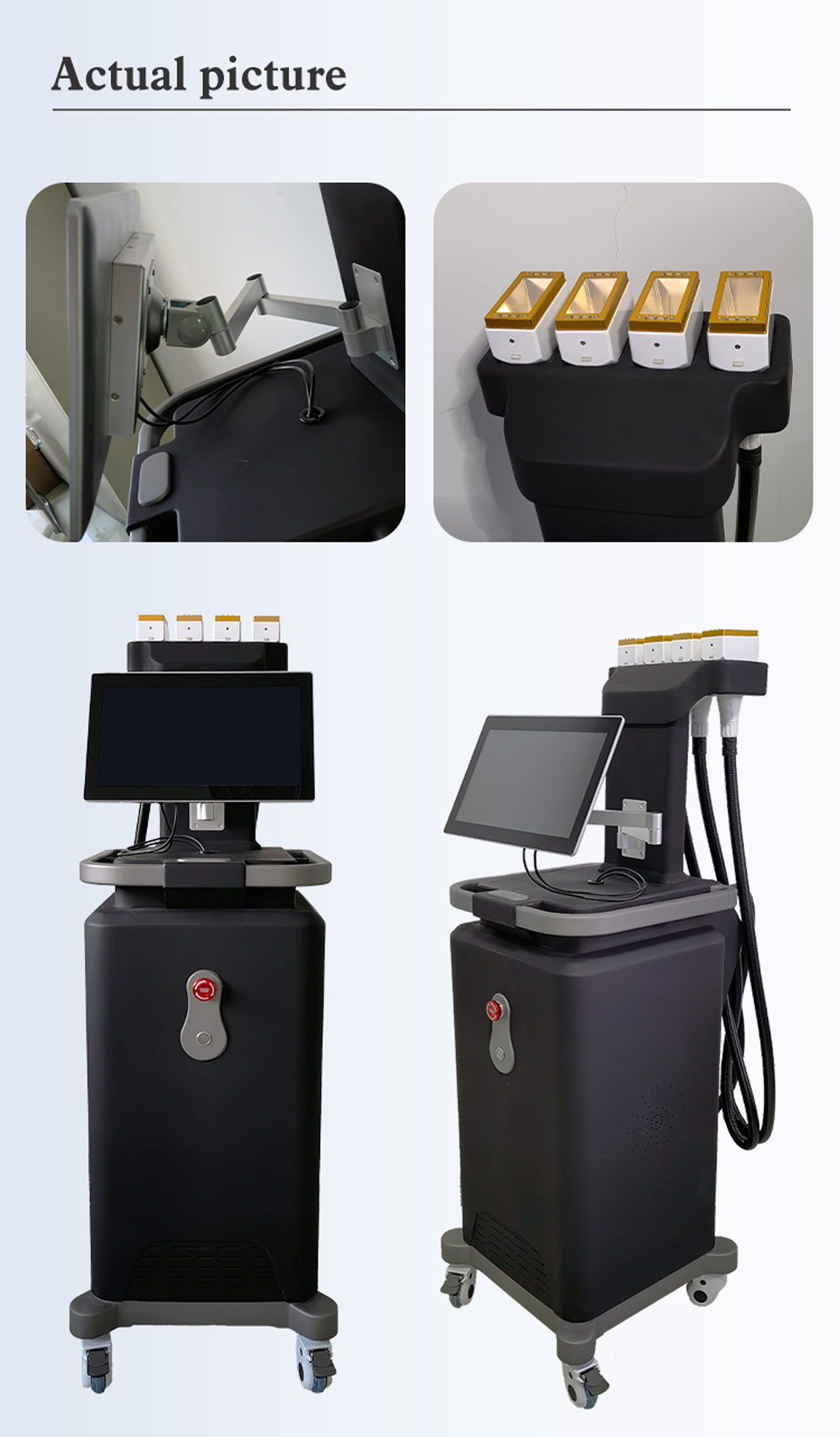 | | |
| --- | --- |
| Machine Model | 1060nm laser slimming machine |
| Slimming applicator | 4pcs |
| Applicator size | 45mm*85mm |
| Light spot size | 35mm*60mm |
| Pulse mode | CW (continuous working); Pulse |
| Output Power | 60W per diode (Total 240W) |
| Power density | 0.5 - 2.85 W/cm2 |
| Operate Interface | 10.4" True color touch screen |
| Cooling system | Air & Water circulation & Compressor cooling |
| Power supply | AC100V or 230V, 50/60HZ |
| Dimension | 88*68*130CM |
| Weight | 120Kg |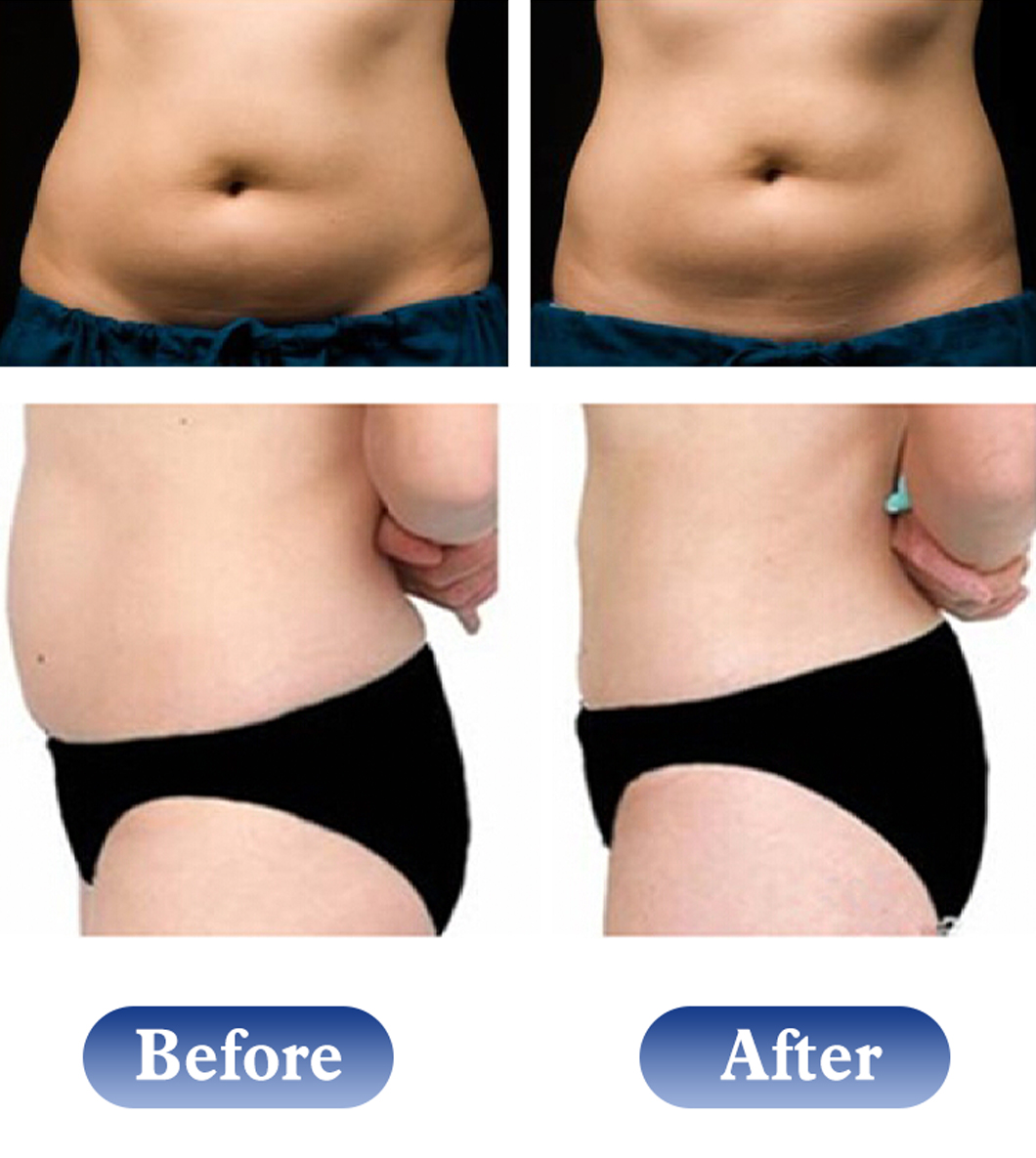 ---
---